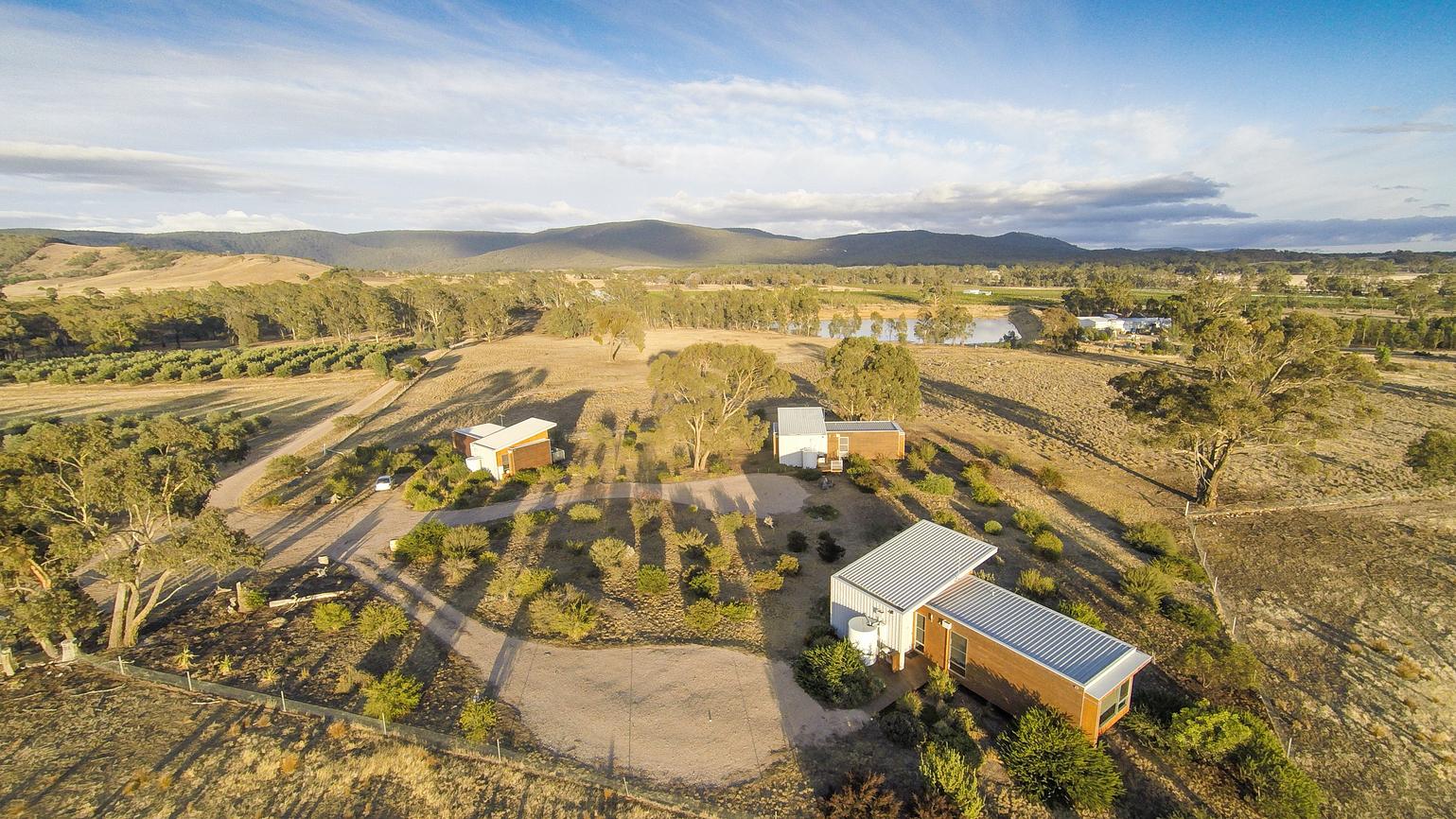 Escape to our Eco-luxe lodges, just 2 hours from Melbourne. Surrounded by 600 olive trees in the Mount Avoca foothills, these lodges harmonize four-star luxury with eco-consciousness. Enjoy elegant regional distinction and breathtaking views for a peaceful weekend getaway.
OUR LODGES
Eco-Luxe at Mount Avoca
With wall-to-wall windows, our lodges offer postcard views of the Pyrenees Ranges, vineyard and the hills and valleys of the region. Stylish and comfortable, the generous living spaces and kitchenette open onto private balconies – a perfect spot to watch the sunset over the vineyard.
EACH STAY INCLUDES
Complimentary Bottle of Wine
Enjoy a bottle of Mount Avoca wine during your stay at Eco-Luxe. Choose a bottle of our premium bubbles, white, or red wine, to sip on while taking in the sunset and peaceful surrounds.
EACH STAY INCLUDES
Complimentary Breakfast
In the morning you'll enjoy our local breakfast provisions on your private verandah before exploring the magic of the Pyrenees right here at your doorstep.
★★★★★

Absolutely beautiful lodges located on stunning Mt Avoca winery. So quiet & scenic. Breakfast provisions, Mt Avoca wine & more included in room rate. Very comfy bed, huge spa bath. All of the above makes it perfect for recharging. Stayed for 3 nights. We felt very welcome & loved every minute. Especially loved the impromptu tour around the property on the way to helping me sort out heater settings. Thank you David!

Melissa F
★★★★★

An outstanding accommodation with sprawling views, visiting wildlife, native flowers, incredibly well designed rooms, bathroom and dining areas. The pantry and food was excellent. Want to return to take advantage of the many bike paths and walks. Couldn't fit it all in on one weekend. Great wine tasting of award winning organic wines, very friendly staff - can't rate the experience highly enough.

C Torpey
★★★★★

This is an amazing little gem in the Mount Avoca vineyard. The outlook is truly stunning. The eco-lux units are really well designed, well equipped and the provisions for breakfast are very generous; plenty of fruit, cereals, cheese, crackers etc and a lovely range of loose leaf teas as well as ground coffee and a couple of bottles of excellent wine.

Fen H
★★★★★

These cottages, located within the vineyards and olive groves of the organic certified mt avoca wines, have all mod cons, are well stocked with provisions, are super comfortable, with incredible views from the bedroom. Such a peaceful place. Two nights was not enough. Well worth it for a short break only a 2 hour drive outside of Melbourne. The pyrenees wine region has a ton of great wine. And this would be the perfect place to stay.

Marcus B
Book Your Retreat
Secure your spot in this serene paradise.
Our friendly team can arrange picnic and dinner hampers as well as bike hire during your visit. The lodges are all equipped with Weber BBQs!
Explore the Pyrenees: Convenient access to over 20 cellar doors and the picturesque town of Avoca.
Natural Wonders: Pyrenees State Forest offers waterfalls, lookouts, dense bush, and open plains for various activities.
Discover nearby wineries
& scenic wonders.
Experience the Pyrenees region from our Eco-luxe lodges. Begin with a tasting at Mount Avoca's stone cellar door before wandering through Avoca's charming town.

For outdoor enthusiasts, the Grampians offer majestic trails and waterfalls. Explore over 20 unique wineries with welcoming winemakers, and venture to Gariwerd (Grampians) National Park for lakes, rock-climbing, and walks. Discover the Pyrenees' budding art scene, antique shops, and the scenic Pyrenees State Forest.